We're the proud recipients of not only several national PR awards, but also high praise from our clients.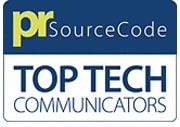 In a survey of 800 business and technology journalists, SRPR was named one of the Top 5 PR Agencies in the United States.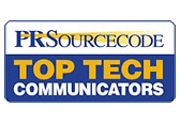 In a survey of 500 technology journalists, Shev was named one of the Top 25 tech PR practitioners in the United States.
I've been working with Shev Rush Public Relations for about three years now as the agency of record for Bon Appétit Management Company, where I am the director of communications. We have a very small communications group in house for what is almost a billion-dollar company in 33 states. SRPR snapped seamlessly into place quickly in supporting our company brand efforts, basically taking pitching off my plate (and doing it much better than I ever did) and providing excellent strategic advice and support for media relations, crisis communications, and speaking engagements.
As an ex-editor and journalist, I am extremely hard to please on the writing side of things and am infamous for rewriting every press release or blurb that passes through my hands. Not only was SRPR soon able to produce first drafts of press releases that I barely touched, but I now entrust them with much more sensitive writing assignments — the only third party to whom I've ever been comfortable delegating such projects. They have an excellent ear for our company voice (as well as for those of individual executives) and a keen eye for story angle, structure, and language. Shev himself thinks and writes like a journalist, and could easily have been one.
SRPR has become an indispensable part of my team and frankly I don't know what we would do without them.
BONNIE POWELL Director of Marketing Communications, Bon Appétit Management Company

I have worked with SRPR for nearly a decade and at three separate companies. I value their expertise, quick turnaround times for unexpected projects, and collaborative nature. Even though they are an external resource, I consider them to be an integral part of our team.
SHELLEY BOOSE Director of PR and Content Marketing, Venafi

Shev was a powerful thinking partner when we were refining our messaging and positioning in the market. He offered an incredibly helpful mix of perspective, thought-provoking questions and active listening that helped us connect the dots on how we want to present ourselves to the world.
SCOTT EBLIN President, The Eblin Group

During our engagement with SRPR, our earned media results increased by 300%. Placements ranged from important industry publications read by our target audiences to top-tier media like Forbes, USA Today, and The Wall Street Journal. Based on the strength of our work together, we've referred our own customers to SRPR for any PR needs they might have.
ELIAS TERMAN VP of Product Marketing, OneLogin

Loved working with Shev and team. So much dedication. So much hustle. This isn't your typical PR firm – they're reliable to a T, have real heart (the kind that shines through on journalists and your customers), and, perhaps most importantly, they know how to get results.
DINESH THIRU SVP of Marketing, Udemy

As a company headquartered in Europe, we found SRPR to be instrumental in expanding our U.S. presence amid a highly competitive field of travel platforms. The agency routinely achieved over our goal KPIs, and the team worked diligently with us to not only promote momondo and our product suite, but also to uncover trends that we could react to in a meaningful way. For anyone looking for a PR agency that acts as a true partner for your business and strategic vision, I highly recommend SRPR.
JULIE PEDERSEN VP of Public Relations, momondo

Our relationship with Shev Rush Public Relations has become a critical component of our marketing strategy. After three years of working together, they are integrated into our marketing and executive leadership teams and have become a trusted and valued partner.
Their results speak for themselves. We have increased our media coverage each year we've worked together by 60% or more. They have deepened our relationships with the most influential security-focused journalists, bloggers and media outlets, resulting in exponential increases in our trade coverage, in addition to securing key top-tier placements with USA Today, The New York Times and The Washington Post. Even in a competitive and noisy market we have been able to steadily increase our visibility and mind share.
Shev Rush Public Relations has proven to be innovative and agile and they continue to provide critical support for our company's continued success. We wholeheartedly recommend them to other companies looking for a highly effective and professional PR partner.
ELIZABETH IRELAND VP of Marketing, nCircle

A challenge in our business is finding outside partners who are able to fully understand both our constantly evolving market as well as the technology upon which our business was built. We found that SRPR grasped not only our technology and business model, but also what was inherently interesting about our products and services to our core audiences and how to communicate that via the media. Within a year, our company was featured in all of our core target media, including a cover story in the most-read publication in our market segment. The extensive coverage we received raised our profile not only among potential customers, but also in the industry generally. The exposure helped us gain notice of some of the biggest players in our market, which led to fruitful acquisition discussions.
CHITTARANJAN "CM" MALLIPEDDI CEO, MedPlexus

SRPR helped us hit the ground running in the weeks leading up to TechCrunch50, the official debut of our company and product. After we placed as a finalist, they helped us capitalize on that news by securing coverage in the New York Times, TechCrunch, Forbes, and CNET.
Probably the greatest value we've realized from working with SRPR has been on the business development front. They've leveraged our media coverage into partnerships and contracts with some of the heaviest hitters in online media and publishing. We consider them an integral part of our team.
SEYMOUR DUNCKER Founder & CEO, iCharts

If you are looking for a PR agency, we found a stellar partner in SRPR | Shev Rush Public Relations. They took the time to understand our goals and objectives and helped us meet them in record time. Within 6 months we had over 40 media placements.
MARY MCGLYNN President, PowerSpeaking

SRPR is one of the best investments I've ever made. I contacted them to help me publicize my book and they took me from nothing, no public presence and no PR experience, to getting covered by CNN.com and exclusive features in CIO Magazine. Now my public presence is generating business for me. And they did it all in 2 months!
ZACK GROSSBART Author of "The One Minute Commute"
We started seeing results immediately with SRPR, and within the first 6 months had placements in Internet Retailer, eWeek and eMarketer, which were key targets for us. SRPR worked closely with our team to ensure our messaging was strong, helped identify the most compelling areas of content within our organization, and most importantly where PR would best support our sales process. One of the most rewarding results was at our first national conference after starting the program, where both clients and other vendors approached our team saying 'We are seeing you guys everywhere!
KATE CLEGG Partner & SVP of Marketing, Rosetta

Shev Rush is highly intelligent, organized and effective. He is excellent at designing a suitable package for the client and always follows through with the implementation. Shev helped us determine our goals and came up with a high and low end approach toward meeting those goals. He keeps on track and on message and delivers concrete results. To top it all, Shev is delightful to work with. He's the bomb!
PAULA BEROZA Advisor, Sierra Asia

Our engagement with SRPR was our first engagement with a PR agency, and we were pleasantly surprised with how quickly we started to see results. The visibility their work brought to our company in such a short timeframe surpassed our expectations.
DAZ CONNELL CEO, DAZMedia

Singular best PR group I've ever worked with is @shevrushpr. Always absolutely unbelievable.
MIKE MURRAY Foreground Security